Let's celebrate the New Year with Glamor and Elegance at Delfines Hotel & Convention Center!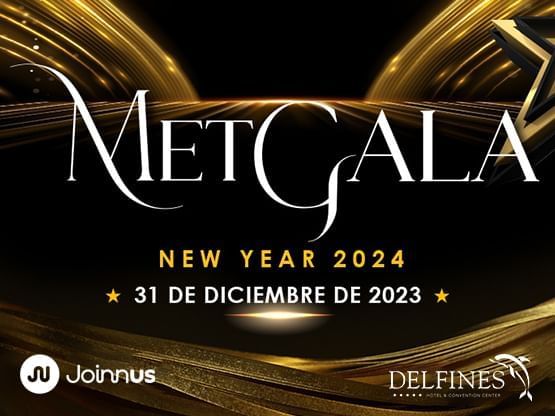 We are preparing for the most exclusive event of the year, where luxury is present to say goodbye to 2023 and welcome 2024. Delfines Hotel & Convention Center, located in the heart of the prestigious financial district of San Isidro, Lima, is proud to present the New Year's MET GALA in its impressive Mediterranean hall.
An Unforgettable Night: MET GALA at Delfines Hotel & Convention Center
Every year, Delfines Hotel & Convention Center sets the standard with its luxury events, and the MET GALA is no exception. Being pioneers in the organization of the largest celebrations in Lima, our parties are synonymous with innovation, glamor and resounding success, which is why we hope to bring together more than 500 exclusive guests to give way to an unforgettable evening in the majestic Mediterranean room.
From 10 pm on December 31, attendees will enjoy a unique experience in a night full of surprises and unforgettable moments that include:
Met Gala Welcome Cocktail: A luxury reception to start the night in style.

Three Course Gourmet Dinner: Culinary delights to satisfy the most demanding palates.

Glass of Cava for the Toast: Let's celebrate the beginning of the new year together.

Crazy Hour Show and Cotillion: Entertainment and fun guaranteed.

Grapes at Midnight: Tradition and good wishes for the coming year.

Free Cork: Let's toast with freedom and joy.

Great Giveaways: Exclusive prizes for our lucky guests.

Courtesy Parking: Subject to availability, for a worry-free experience.

The celebration lasts until dawn to close with a delicious aguadito.
Ticket Cost:
Pre-sale until December 1st:

Zone 1: US$ 170 or S/ 655

Zone 2: US$ 162 or S/ 624

Final Price until December 31:

Zone 1: US$ 200 or S/ 770

Zone 2: US$ 190 or S/ 732
Unforgettable Moments: Extra Experiences for our guests
Before immersing themselves in the celebration, attendees will enjoy an elegant carpeted anteroom, where a recording team will capture the great moments of the night, living statues will be present to create unique photos and captures of each attendee. Plus, a mirrored area will ensure laughter, fun photos, and special moments with friends and family.
The Music that Will Mark the Night: Rumba Fest Orchestra
To liven up the evening, we will have a vibrant performance by the Rumba Fest Orchestra. With more than 20 years of experience, this group of 16 professional musicians will offer an unforgettable show with a repertoire that covers salsa, pop, pachanga, Creole music and much more. The dance floor will be guaranteed!
Luxury Rest
Delfines Hotel & Convention Center offers exceptional accommodation packages to recharge your batteries and get a well-deserved rest after this great celebration, and starting at 9 in the morning, all guests will be able to enjoy a delicious Brunch Buffet, available as part of the experience. complete.
As we end this extraordinary year, let us reflect on our achievements and challenges. May the next year be full of success, joy and new horizons. Let's toast to a new beginning, full of experiences that make us grow and moments that we treasure forever.
Delfines Hotel & Convention Center: Elegance and Luxury in the Heart of Lima
More than a hotel, we are an exclusive destination for those seeking unparalleled experiences. With a privileged location in front of the Lima Golf Club, Delfines Hotel & Convention Center offers 206 luxury rooms and suites in a 14-story building with panoramic views. Our commitment to elegance, luxury and personalized service distinguishes us as one of the main 5-star hotels in Lima.
Join us on this extraordinary night and let's toast together a new year full of successes and memorable moments. We are waiting for you at Delfines Hotel to say goodbye to 2023 like never before!
Get your tickets here:
996 051 983
rmunoz@losdelfineshotel.com.pe
Hotel package:
996 051 989
cvilchez@losdelfineshotel.com.pe
Our latest news
Delfines Hotel: A luxury experience in a 5-star hotel
In the heart of Lima, in the prestigious financial district of San Isidro, is an oasis of luxury and sophistication: Delfines Hotel & Convention Center. Experience an unforgettable stay where elegance is combined with comfort, and where every detail is carefully designed to offer a truly unique experience.